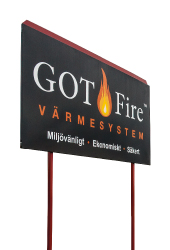 Our unique heating systems have been developed by Bröderna Wimans Mekaniska Verkstad AB. The company was founded in 1962 by Lars Wiman who himself developed his own wood chip oven and laid the foundation for today's generation of biomass burners which we now sell under the brand name of GOTFire.
Today operates GOTFire AB by the son Ola Wiman and his family and about three employees, and we are proud to be one of the leading Swedish comapnies working within wood chip burning . From being a small local campany based in the town of Vänge on the island of Gotland, GOTFire today delivers its heating systems to property owners in both Sweden and Europe.
Our goal is an has always been to deliver the best possible heating system that is envirionmentally friendly, economical and safe - both good for you and the environment!